News
Interview on The Wave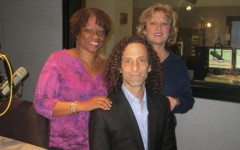 The WAVE Exclusive: Kenny G Charms Pat & Kim With Sax Talk
Kenny G has had monumental success throughout his career as the biggest selling instrumental artist of all time, and continues to pour his "heart and soul" into making music for his loyal fans. Just releasing his 13th studio album in 2010 that recently earned him a Grammy nomination, Kenny G is as busy as ever bringing his fantastic, heartfelt compositions into popular listening.

With only days away from his big Valentine's Date concert with Michael Bolton, Kenny G stopped by to visit with Pat & Kim to talk about everything from his latest release and the concert to more casual talk about his feelings on Tiger Woods and of course his trademark hair. Listen to our special extended interview with Kenny G you won't hear anywhere else!

Kenny G is just as popular as ever and fans still go so wild over his smooth melodies that we had to release more tickets for The WAVE's upcoming Valentine's Date concert just to keep up with the demand. This is a nostalgic kind of concert for Kenny G and good friend Michael Bolton, who started out as a singer in Kenny G's band.

The two previously sold out eight nights of shows at the Universal Amphitheater while on tour together and will now return to the stage once again for this romantic show at the now Gibson Amphitheater.

Kenny has accomplished what very few artists have done, which is opening a whole genre of music to fans who otherwise never listened to before. He brought his melodic instrumentals into popularity with his own unique sense of performing and composing his music.

"I wasn't trying to lighten up jazz," said Kenny. "I was just trying to play my way. I have a sense of melody that I always wanted to put out there, and that's what I do."

And he's done that time and time again with 13 studio albums plus numerous holiday albums to his name. His latest release Heart and Soul is one of his most intimate albums to date, which even earned him his 17th Grammy nomination.

"Not to be funny, but I did put my 'heart and soul' into this," he said. "This is just heartfelt music, it's compositions that just came right out of me, stuff I just felt good about. I just wanted to play songs that meant something and that's what this album is about."

You can hear much more from the smoothest man in contemporary jazz in our extended web exclusives with Kenny G. Make sure to get your sweetheart tickets to the most romantic concert of the year at The WAVE's Valentine's Date with Kenny G and Michael Bolton!